The Food
---
50 states. 50 iconic dishes! Here are this year's food selections. Every state's dish* will be featured at the 2019 Flavored Nation event to enjoy. Taste an old favorite or try something new! Admission to the event includes 10 food tickets with the option to purchase more. Maybe if you don't eat the day before, you can eat your way through America!
Alabama
Bayou Fritters with Alabama White Sauce
This Alabama Bayou hushpuppy is filled with andouille gator, Cajun chicken and lump crab. It's fried to golden-brown perfection served with Alabama white sauce and pickled green tomato.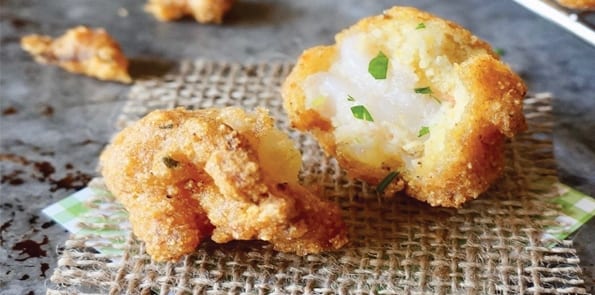 Alaska
Reindeer Sausage
Reindeer sausage is a longtime Alaskan staple, typically either served as a side in diners or on a bun at hot dog carts. Native to northern Europe and Russia, reindeer – a close relation to wild caribou - were brought to Alaska in the late 19th century as a solution to a post-whaling industry food shortage among Native Alaskans. In the 1930s, the population of reindeer in western Alaska peaked at 640K. Today, there are around 20 reindeer herders and 20,000 reindeer in that area, helping provide meat and sausage to Alaskans across the state.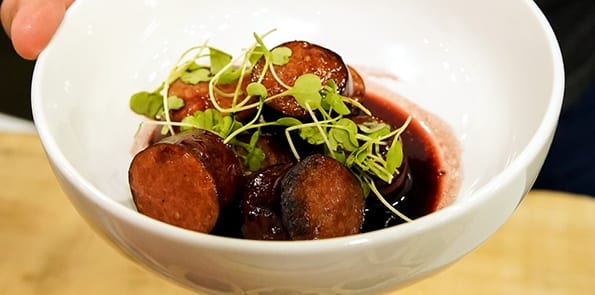 Arizona
Navajo Fry Bread
Navajo Fry Bread is a flat dough bread, fried or deep-fried in oil, shortening, or lard. Made with simple ingredients, frybread can be eaten alone or with various toppings such as honey, jam, powdered sugar, venison, or beef. Frybread can also be made into tacos, like Navajo tacos. For many Native Americans, "frybread links generation with generation."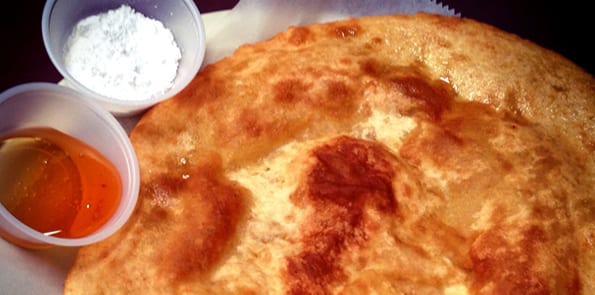 Arkansas
Southern Fried Catfish
This Arkansas favorite may have different names within different families, but it was created in Arkansas and named Possum Pie. We promise this pie contains no actual possum. It is a layered dessert that starts with a shortbread crust then toped with sweeted cream cheese, chocolate pudding, and a layer of whipped topping. The top is decorated with crushed pecans.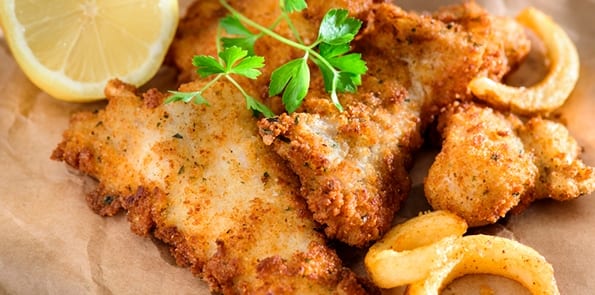 California
Grilled Fish Tacos
In Baja, sometime in the past 40 or 50 years, someone concocted what is now considered the classic fish taco. The dish involves a double layer of corn tortillas, big hunks of fish, shredded cabbage, crema (a sort of thinner sour cream), pico de gallo and, often, a spritz of lime. The fish is usually a white, flaky fish like mahi-mahi, cod, or other frequenters of Southern California waters.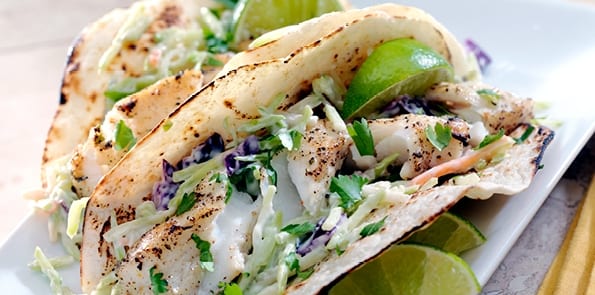 Colorado
Pork Green Chile Tacos
Pork green chile is a thick, spicy stew is comprised of tender pork butt that is slow-roasted with Anaheim chiles. Serve it in bowls with warm tortillas and shredded cheese, or try it extra Colorado-style — smothered on top of burritos or eggs. At Flavored Nation, this spicy treat will be served in a street taco with toppings and finished with chicharon dust.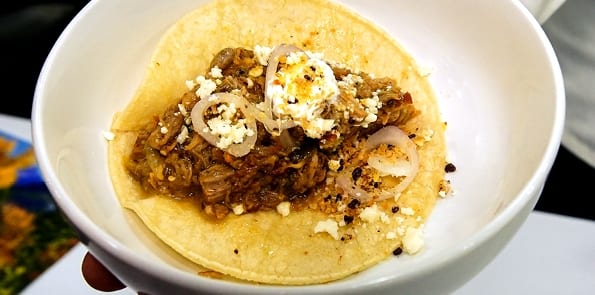 Connecticut
Hot Lobster Roll
Also called "the coastal," the Connecticut-style lobster roll is a heap of warm, sweet lobster meat piled onto a soft, buttery hot dog bun. Unlike lobster rolls from Maine, there is no dressing — just melted butter that's used to drizzle on the lobster meat right before taking the first bite. Originated in Connecticut, the "warm with butter" lobster roll type is gaining in popularity in New England and across the U.S.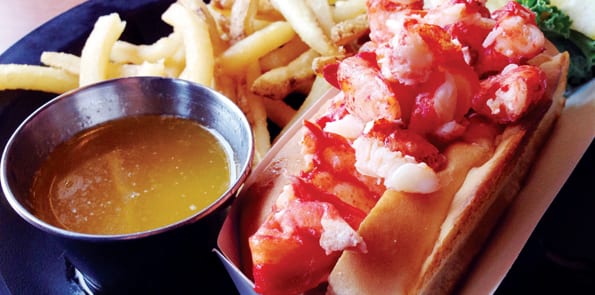 Delaware
Scrapple
Scrapple, also called, pannhaus by the Pennsylvania Dutch, originated in southeastern Pennsylvania during colonial times. However, Delaware is now the nation's largest scrapple producer and home to an annual Apple Scrapple Festival. Scrapple is made (traditionally) of pork scraps and trimmings combined with cornmeal, wheat flour and spices then formed into a semi-solid congealed loaf. It's then sliced and pan-fried. Scrapple is considered a breakfast staple across the mid-Atlantic region; however, the meat can be used in a wide variety of dishes.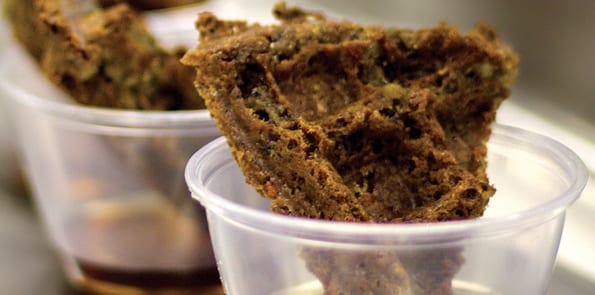 Florida
Cuban Sandwich
The Cuban Sandwich is a variation of a ham and cheese sandwich that became famous in Key West, FL among cigar factory workers. It consists of ham, roasted pork, cheese, pickles, and mustard. These ingredients are stacked between cuban bread and pressed and warmed in a panini press.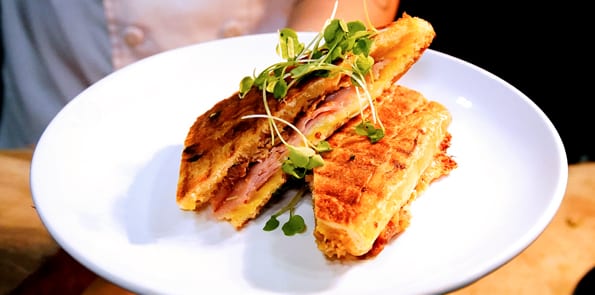 Georgia
Chicken and Waffles with Peach Compote
Chicken and waffles is an American dish combining fried chicken with fluffy waffles. It is part of a variety of culinary traditions, mainly from the South, and is served in certain specialty restaurants in the United States. Although traditionally served with syrup, at Flavored Nation, we will be bringing this classic combination home to Georgia with the addition of a luscious peach compote.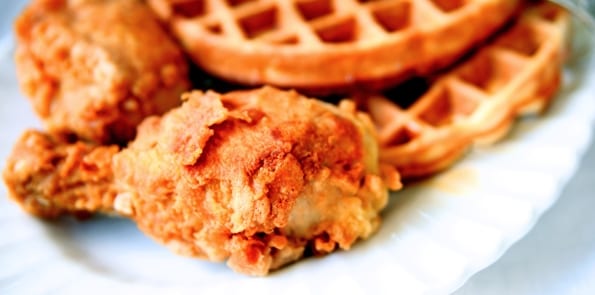 Hawaii
Plate Lunch
Plate lunch is a filling go-to meal for Hawaiians that traditionally includes various proteins flanked by macaroni salad and two scoops of white rice. The origin and name of the dish dates back to the 1930s when lunch wagons would cater to laborers working Hawaii's pineapple and sugar plantations, serving the food on compartmentalized paper plates. Now, plate lunch is served at roadside stands, food trucks and diners across the state.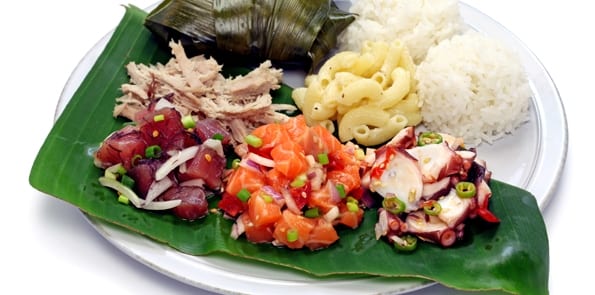 Idaho
Finger Steaks
Finger steaks consist of 2-3 inches long by 1/2 inch wide strips of steak (usually top sirloin), battered with a tempura-like or flour batter, and then deep-fried in oil. Invented in Boise in the 1950s as a means of selling leftover tenderloin, finger steaks – typically served with french fries and buttered toast - are now a common sight on restaurant, bar, and fast-food menus across Southern Idaho.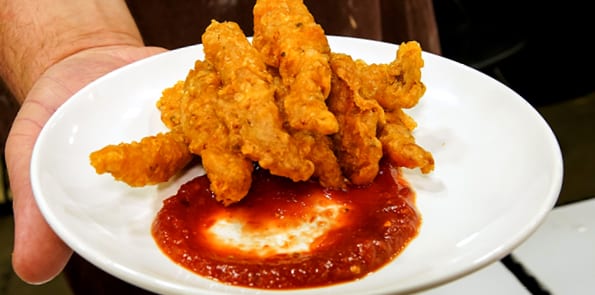 Illinois
Deep Dish Pizza
First invented by Italian-Americans at Pizzeria Uno in Chicago, in 1943, deep-dish pizza is baked in an oiled, round pan with the dough pressed up onto the sides to form a bowl. The thick layers of ingredients used in deep-dish pizza require a longer baking time. Therefore, to prevent burning, the toppings are assembled upside down, with cheese on the bottom and a layer of thick, chunky tomato sauce on top.
Indiana
Fried Pork Tenderloin Sandwiches
The breaded pork tenderloin sandwich, first created at Nick's Kitchen in Huntington, Indiana, is traditionally made from a piece of pork tenderloin hammered thin with a meat mallet, then dipped in flour, eggs and breadcrumbs or crushed saltine crackers before being deep fried in oil. An iconic trait of the sandwich is that the diameter of the pork considerably exceeds that of the bun. It can be served with condiments such as mustard, lettuce, onions, pickles, and mayonnaise.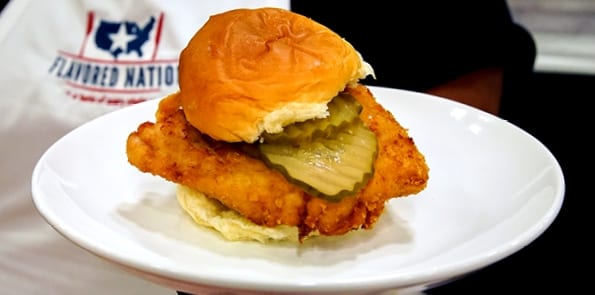 Iowa
Corn Dog
A corn dog is a sausage, usually a hot dog, coated in a thick layer of cornmeal batter on a stick. Corn dogs are often served as street food or as fast food and have become a staple at summer fairs across the United States, including the Iowa State Fair (one of the nation's largest). In 2008, during its opening ceremonies, the Iowa State Fair set a world record for the most people - 8,400 - simultaneously eating corndogs, during an event called "The Corndog Chomp."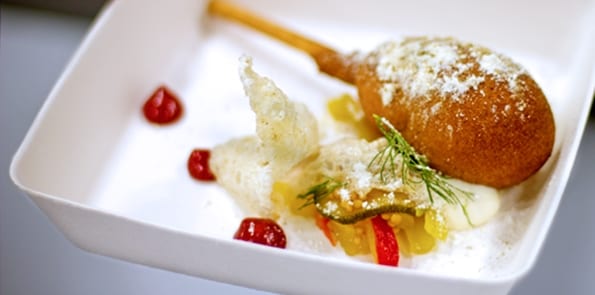 Kansas
Chicken and Dumplings
Chicken and dumplings is a popular comfort dish that consists of a chicken cooked in water, with the resulting chicken broth being used to cook the dumplings by boiling. The dumpling is made from a biscuit dough, which is a mixture of flour, shortening, and liquid (water, milk, buttermilk, or chicken stock). The dumplings are either rolled out flat, dropped or formed into a ball. Sometimes finely chopped vegetables, such as carrots and celery, are added to the broth, and herbs such as dill, parsley, thyme, or chives are added to the dumpling dough.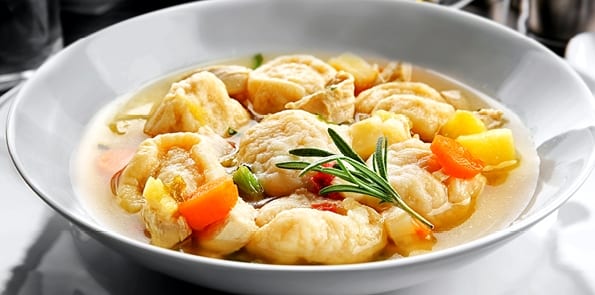 Kentucky
Hot Brown
A hot brown sandwich (also known as a Louisville or Kentucky Hot Brown) is an American hot sandwich originally created at the Brown Hotel in Louisville, Kentucky. It's open-faced and piled with turkey, bacon, tomato and Mornay sauce then baked or broiled until the bread is crisp and the sauce begins to brown.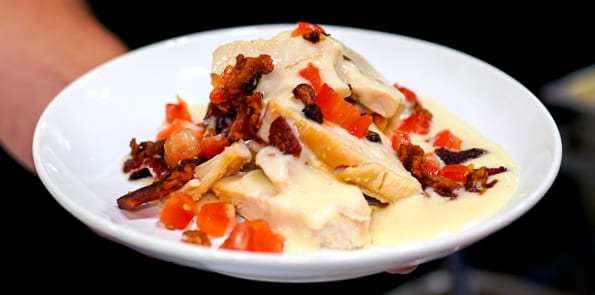 Louisiana
Chicken and Andouille Gumbo
Gumbo - a stew consisting of strongly-flavored stock, meat, a thickener and vegetables (celery, bell peppers and onions) - is on every kind of menu everywhere in Louisiana, from bar food to fine dining. It's also simmering on the back burner of almost every home kitchen. Gumbo features various elements from the multiple cultures that make up the state.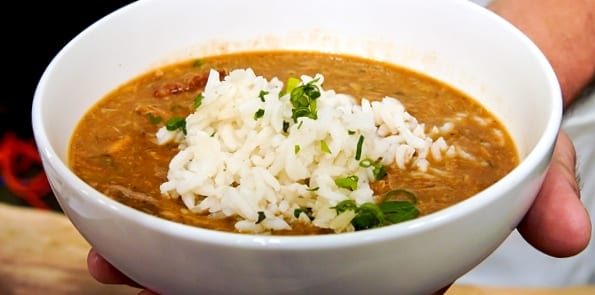 Maine
Cold Lobster Roll
Historically, lobster rolls in the U.S. are most commonly associated with Maine, making the state's "lobster salad roll" what most of us envision when thinking of the dish. The meat is cold and, in most cases, tossed with mayonnaise and celery or scallions. In New England, it's served on a special bun called the "New England" or "Frankfurter" roll, which differs slightly from a standard hot dog bun in that the sides are flat, providing more surface area for soaking up butter, then toasting.
Maryland
Crab Cakes
The modern crab cake is made of crab meat, bread or breadcrumbs, various seasonings, eggs, milk and mayo. Those ingredients are combined into small cakes that are then cooked (pan-fried, grilled or baked). Most crab cakes - including Costas Inn's Maryland crab cakes that will be served at Flavored Nation - use blue crab from the Chesapeake Bay, but some crab cakes are made with other types of crab such as the Dungeness.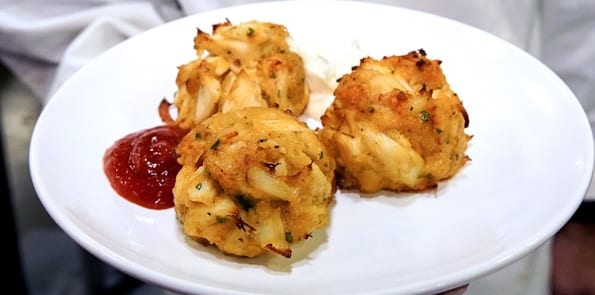 Massachusetts
New England Clam Chowder
A thick chowder made from clams, potatoes, onions, sometimes salt pork, and milk or cream, New England clam chowder is a distinct white color, differentiating it from other varieties, including the red, tomato-based Manhattan clam chowder. Believed to be introduced by French, Nova Scotian, or British settlers, New England clam chowder was a common food in the region by the 1700s. The dish is usually accompanied by oyster crackers, either crushed and mixed into the soup for thickener or used as a garnish.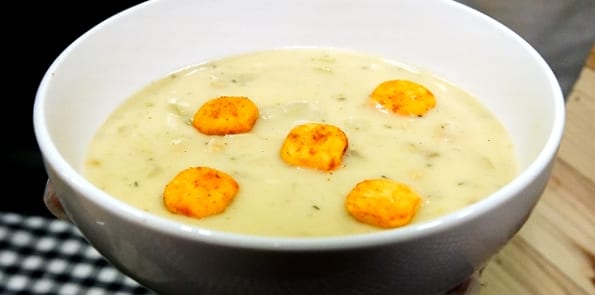 Michigan
Coney Dog
A Coney dog is a typical American hot dog, steamed (some says it's sacrilegious to griddle it or grill it). It's served on an also-steamed bun, topped with a chili-like ground-beef sauce now known as "Coney sauce," and finished with yellow mustard and chopped onions. The sauce is important – and can vary regionally. For example, the Detroit sauce traditionally includes beef heart, giving it an iron-y, mineral-y kind of flavor. In Flint, the texture of the sauce is much drier, more like crumbled meat.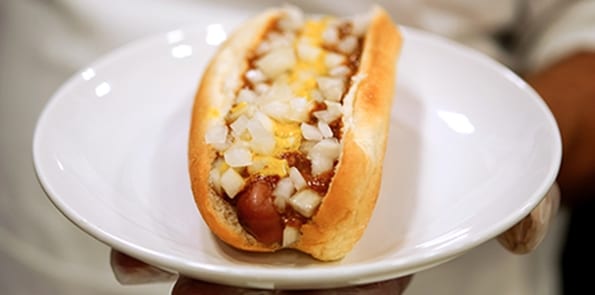 Minnesota
Wild Rice Soup
Minnesota is the home of wild rice, which is not really a rice but rather the very nutritious grain of an aquatic plant naturally found in the state's cold rivers and lakes. This grain is sold throughout the year in Minnesota but its usual harvest time is August through September. It is widely used in Minnesota cooking, and the most common dish is cream of wild rice soup. This specialty is typically made with a chicken stock base and is always dotted with earthy, nutty wild rice.
Mississippi
Mud Pie
Mississippi mud pie is a rich chocolate dessert made of pudding, cake, biscuits, ice cream, whipped cream, marshmallows and a cookie crust. The pie is typically built in layers and topped with chocolate syrup, pecan, almonds, marshmallows or chocolate shavings. Those who make the dessert sans-crust may refer to it as "Chocolate Lasagna" or "Mississippi mud cake." While mud pie's origin and naming stories vary (ranging from Jackson to Vicksburg), the cake is undoubtedly named for the dark, goopy mud found along the Mississippi River.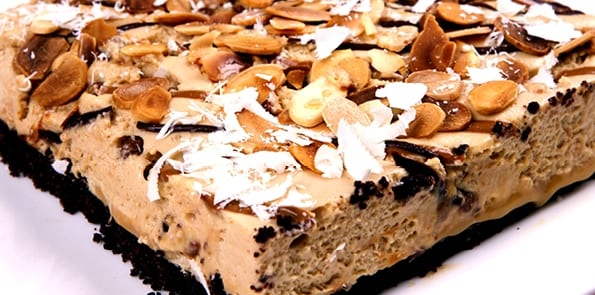 Missouri
Burnt Ends
When it comes to BBQ sometimes burnt pieces are the most delicious. Burnt ends are the points of a meat that has been smoked. The ends have a bark that make them crispy and full of flavor. Traditionally burnt ends are chopped in cubes and returned to the smoker to create additional bark. They are served hot with BBQ sauce.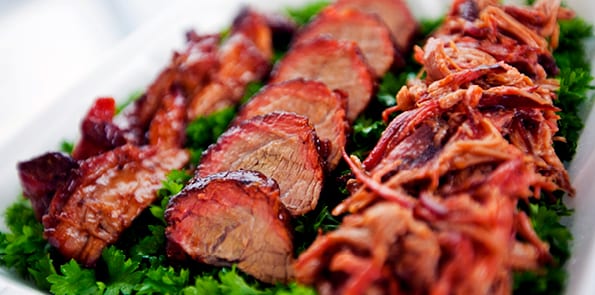 Montana
Bison Meatballs
Montana is known for their bison. It is home to a National Bison Range. Similar to beef meatballs the bison is ground and combined with eggs, bread crumbs, and seasoning. Bison is a leaner more tender meat. It is also known to have a sweeter taste.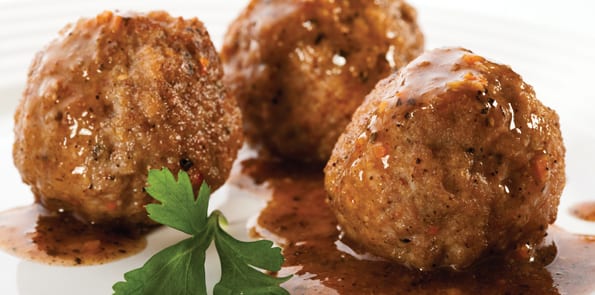 Nebraska
Rueben Sandwich
The classic Reuben is a grilled sandwich piled high with corned beef, Swiss cheese, sauerkraut and Russian dressing between slices of rye bread. As Nebraska food lore goes, the sandwich was invented by restaurateur Bernard Schimmel of the Blackstone Hotel in Omaha sometime in the 1920s. He created the sandwich for Reuben Kulakofsky, a Jewish, Lithuanian-born grocer from New York., during a poker game. For some time, the Kulakofsky family laid claim to the sandwich's origins, but the oldest printed reference to the Reuben was found on a 1934 menu from Blackstone's offering the sandwich for 40 cents.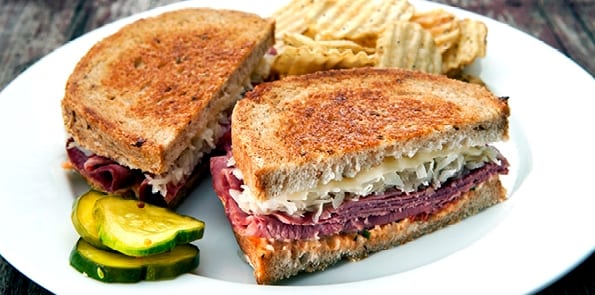 Nevada
Prime Rib
Before the celebrity chefs took over Las Vegas, the city relied on cheap prime rib to drive diners into the restaurants yet still have enough money to keep on gambling. The meat's history can be traced back to The Last Frontier, the Strip's second gambling resort (opened in 1942). For $1.50 guests could enjoy "juicy rich prime ribs of Eastern steer beef, cooked in rock salt, served from the cart at your table with Idaho baked potato with chives, tossed salad, rolls and coffee."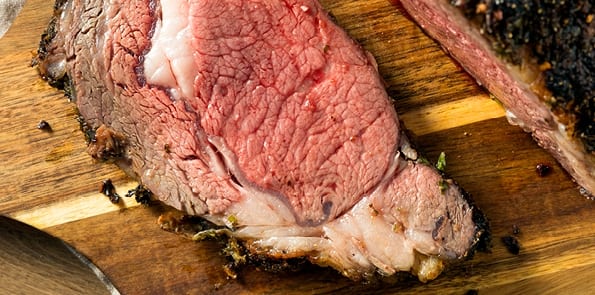 New Hampshire
Duck Poutine
Poutine is a dish that includes french fries and cheese curds topped with a brown gravy. Although traditionally associated with Canada, poutine has seen an increase in popularity in America, specifically in Canadian border states, such as New Hampshire. Many variations on the original recipe are popular, leading some to suggest that poutine has emerged as a new dish classification in its own right, as with sandwiches and dumplings. At Flavored Nation, our poutine will be served with duck, plentiful and popular in New Hampshire.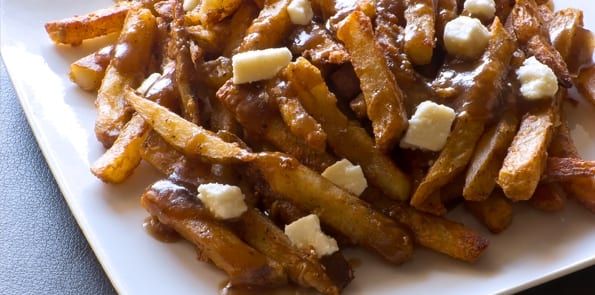 New Jersey
Pork Roll
In Trenton, the capital of the Garden State, John Taylor invented a processed meat in 1856 that he called Taylor Ham. Taylor knew that the rich folks around him were having ham steak for breakfast with their eggs and most likely created America's first processed food so that poorer people could also have meat on the breakfast table. However, in 1906, the U.S. government issued a firm definition of "ham" - and Taylor's ham wasn't it. The company was forced to change the name of its product to "pork roll." Throughout the state, the meat is most typically prepared by frying thin slices on a griddle then stacking it on a hard roll with a fried egg and American cheese.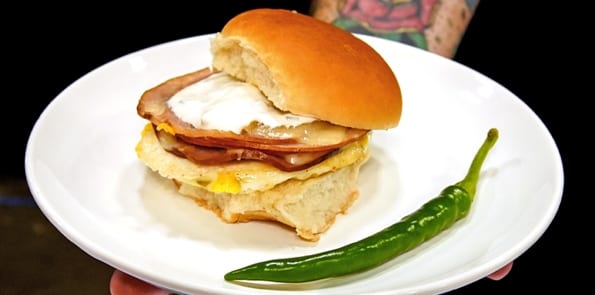 New Mexico
Enchiladas
An enchilada is traditionally a corn tortilla filled with meat and cheese. Some suggest that enchiladas come from the Mayans, for whom corn tortillas were a staple. There's evidence that the first enchiladas were actually tortillas with fish in them. As Mexicans immigrated to the United States, so did their culture and cuisine. In New Mexico, enchiladas are stacked (also called "flat enchilada" or "Santa Fe-style enchilada") in a casserole-like pan - with repeated layers of tortillas (often blue), red or green sauce (that's "Christmas"), chopped onion, shredded cheese and sometimes meat. It is served in a manner reminiscent of lasagna.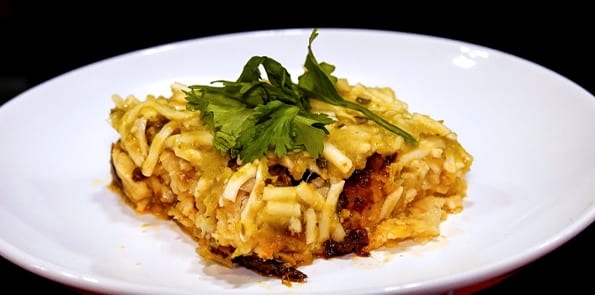 New York
Buffalo Wings
The first wings were served in 1964 in a Buffalo restaurant called the Anchor Bar. The wings were the creation of Teressa Bellissimo, who covered them in her own special sauce and served them with a side of blue cheese and celery. Proper Buffalo wings (snapped in half so that they resemble tiny drumsticks) are deep-fried without coating or breading, then slathered in sauce — a combination of melted butter, hot sauce and red pepper. During the 1970s, the recipe spread to other New York eateries. Duff's was an early adopter and remains a favorite Buffalo wing joint. Soon after, Buffalo wings went national, with chains like Hooters (1983) featuring the dish at the center of its menu.
North Carolina
Pulled Pork
Carolina barbecue is traditionally pork, served pulled, shredded, or chopped, but sometimes sliced. "East Carolina" has its own special variety of sauce that's vinegar based: watery thin, tangy, with a spicy kick. The origins of the sauce date back to British colonization along the North and South Carolina coastlines when meats would be basted with salted acidic marinades.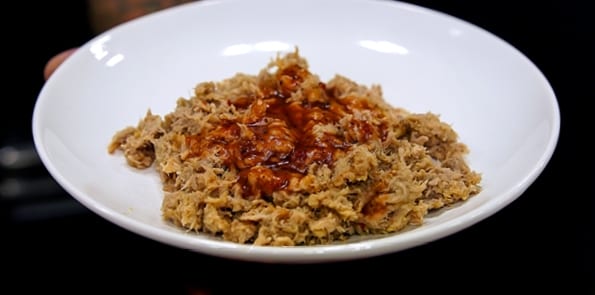 North Dakota
Cheese Buttons
Cheese Buttons, also known as Kase Knoepfla, is a dish that was introduced to The Dakotas by German immigrants from Russia. While it is not the state food, many natives feel it should be. Cheese Buttons are very similar to Italian ricotta ravioli in fact the dough is identical. These are served boiled with melted butter and with fried bread cubes for a little crunch.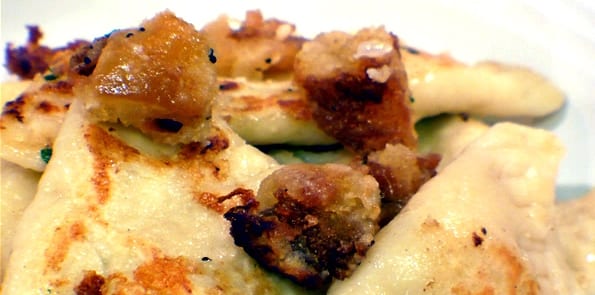 Ohio
Buckeyes
Buckeyes are delicious candies that happen to look like the nuts of a buckeye tree. The center of the candy is a mixture of peanut butter, sugar and butter, which is worked into small rounds. These rounds are then dipped in chocolate - sides only, so the peanut butter filling is visible on top.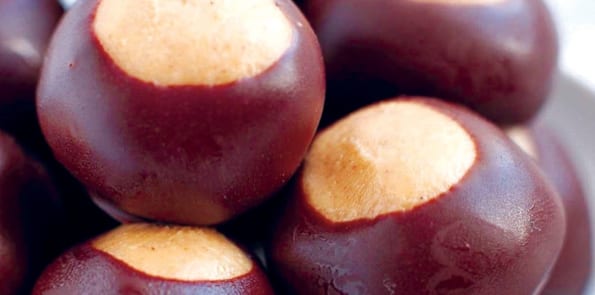 Oklahoma
Three Sisters Salad
Three Sisters Salad celebrates the bounty of the fall harvest and includes many autumnal vegetables such as butternut squash, corn and beans. The dish emerged from Native American traditions in the Oklahoma region of the now United States. It is served tossed in dressing, typically a vinaigrette.
Oregon
Marionberry Pie
The marionberry is beloved in Oregon because it was literally born and raised there. A cross between Chehalem and Olallie blackberries, the marionberry was bred at Oregon State University, named for Marion County (where the field trials took place) and dates back to the early 1900s. When introduced to the public, people raved over its tart-yet-sweet flavor. Each year during its short July ripe season, the marionberry is consumed by Oregon's residents – popularly, as marionberry pie – and rarely shared with the rest of the country.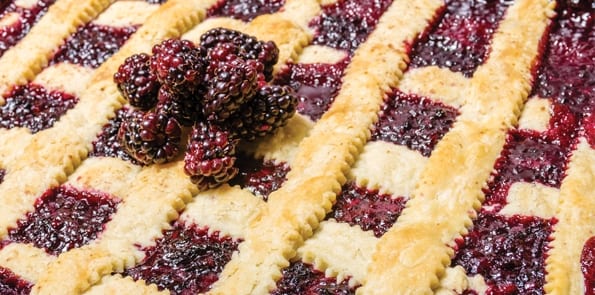 Pennsylvania
Philly Cheesesteaks
Restaurants in Philadelphia use various cuts of beef for cheesesteak, and usually each place sticks to one kind. Rib eye is considered the finest cut because of its extra fattiness, but top round is also popular. Thrown on the griddle, some places like to leave the meat in very broad, very thin slices. Some places use the edge of a spatula to break down the meat as it cooks, giving it a good chop. After it's piled onto what looks like Italian "hero" bread, or like a "sub" (the go-to bakery in Philly is Amoroso's), the meat is traditionally topped with Cheez Whiz and sautéed onions. Some cheesesteak aficionados also add ketchup and/or hot pickled chili peppers. Philadelphians Pat and Harry Olivieri are credited with inventing the sandwich in the early 1930s.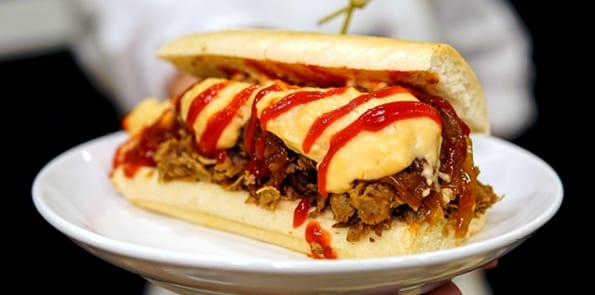 Rhode Island
Stuffed Quahog
Stuffed Quahogs, or "stuffies" are a Rhode Island favorite. Also known as stuffed clams, the clams are first steamed to open them, then the meat is removed and combined with bread crumbs, bell peppers, onion, and spices. Once stuffed they are returned to the oven to bake. Don't miss trying this Rhode Island staple.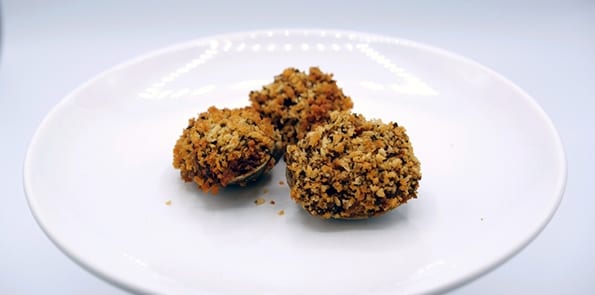 South Carolina
Shrimp and Grits
Fresh shrimp served on a bed of simmered milled corn has long been a staple in Lowcountry South Carolina. Convenient for the shrimpers along the South Carolina coast, shrimp and grits (also known as shrimps and hominy) started as a simple breakfast food. In the 1990s, the chef at Charleston, South Carolina's Magnolia's restaurant elevated the dish to fine dining levels, and it quickly became synonymous with the city. Today, there are dozens of shrimp and grits iterations all across the south. Some menus keep it simple with just shrimp and grains; others fancy (and spice) it up with peppers, sausage, tomatoes or tasso ham.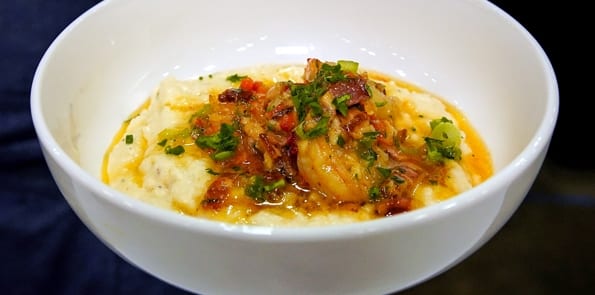 South Dakota
Chislic
Chislic is a traditional dish of cubed red meat, originating from Russia and Caucasus, now a staple across the state of South Dakota. The term isn't specific to any one meat or seasoning but, rather, preparation. Cubes of wild game, mutton, lamb or beef - generally no bigger than a half-inch - are deep-fried or grilled, seasoned with garlic salt and then served hot on a skewer or toothpick. The dish is popular in bars and casual restaurants across the state, often with a side of saltine or soda crackers.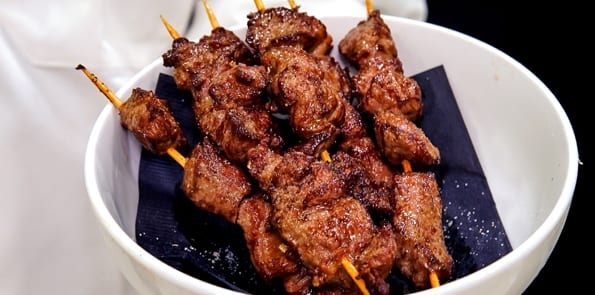 Tennessee
Moon Pies
A Moon Pie, an American confection popular across much of the United States, consists of two round graham cracker cookies with marshmallow filling in the center, dipped in a chocolatey coating. The snack is often associated with the American South, where it is historically accompanied by an RC Cola. Today, Moonpies are made by Chattanooga Bakery, Inc. in Chattanooga, Tennessee. At Flavored Nation, the Moon Pie will be served with sorghum roasted bananas and Chattanooga Whiskey Vanilla Bean Pudding.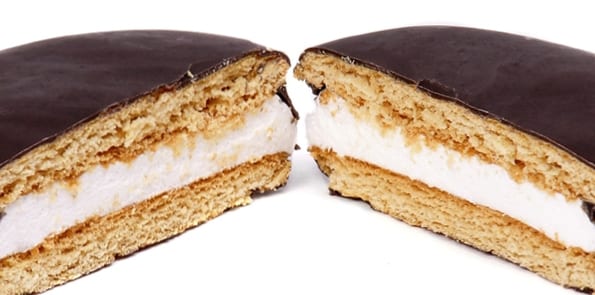 Texas
Brisket
Texas is known for some of the best brisket in the world. Seasoned with coarse salt and pepper, prime cuts of beef are cooked Texas style, which is a process of slow-smoking that results in a juicy, mouthwatering brisket with dark caramelized bark. The Texas brisket at Flavored Nation will be freshly smoked on-site.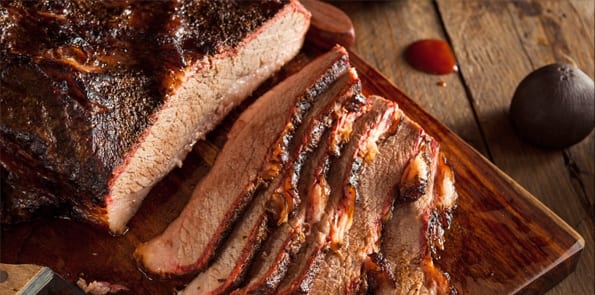 Utah
Artisanal Chocolate
Utah has become America's hotbed of artisanal chocolate; the state is home to eight bean-to-bar chocolate makers and an active chocolate appreciation society. Caputo's Market and Deli in Salt Lake City, which carries more than 300 different artisan chocolates (the largest selection of craft chocolate in the country), is often credited for paving the way in regard to Utah chocolate's national distribution and growing international recognition.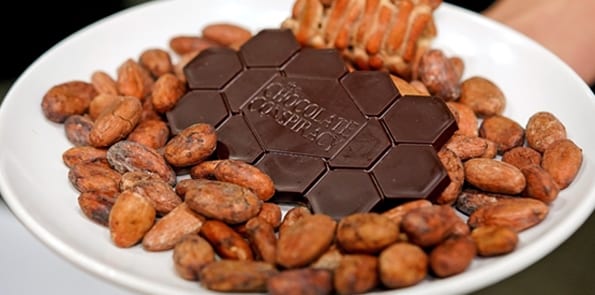 Vermont
Maple Cream Pie
Vermont is the largest producer of maple syrup in the United States, with a staggering volume of almost 900,000 gallons harvested every season, or 6 percent of the world's supply. While it's common to see local general stores selling maple candy, maple creemees (Vermont-speak for soft-serve ice cream) and maple-infused liquor; one of the state's favorite treats is Vermont Maple Cream Pie. This decadent dish takes nature's sweetener to a new level by incorporating it into a custard that's baked in a flaky pie crust and topped with sweetened cream.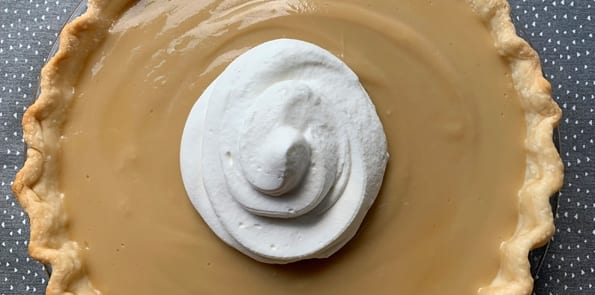 Virginia
Buttermilk Buiscuit with Pimento Cheese and Pepper Jelly
This dish a truly a mouth full of South, with a special nod to Virginia. The flaky biscuits are made with Patrick Henry flour, which is milled in Ashland at historic Byrd's Mill. They're smeared with pimento cheese, nicknamed "caviar of the South." The mixture of cheddar cheese, mayo, spices and sweet pimento peppers is a staple below the Mason-Dixon line, with each region adding its own twist. This version is a family recipe from Charlottesville cheese shop Tilman's, and uses Duke's mayonnaise, which originated in Richmond. It's topped with pepper jelly, made from Virginia chutney.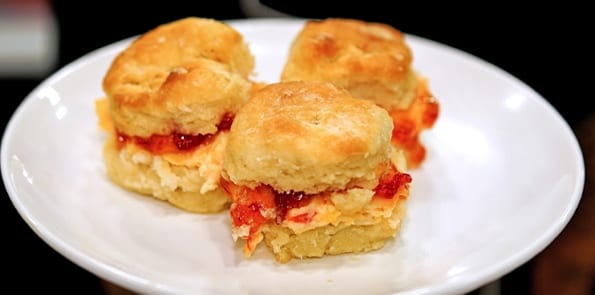 Washington
Cedar Plank Salmon
Plank cooking originated with the native people of the Pacific Northwest and was closely linked with the area's annual wild salmon migrations. The planks used most often were aromatic wood from indigenous trees such as alder and cedar. Today, wild salmon is still prevalent in Washington. Grilling the fish on top of a cedar plank adds a smoky richness to the meat's natural flavor.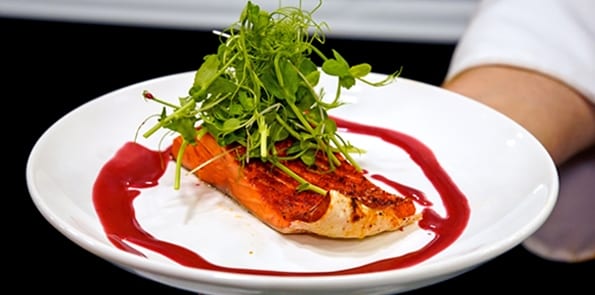 West Virginia
Pepperoni Roll
The classic pepperoni roll is a soft white yeast roll with pepperoni baked in the middle. During baking, the fats in the pepperoni melt, resulting in spicy oil infusing the bread. The dish was created as an easy, no-refrigeration-needed lunch option for the coal miners of north-central West Virginia in the 1900s. It became so popular that its creator, Giuseppe "Joseph" Argiroas, quit the coal mines and opened Country Club Bakery in 1927.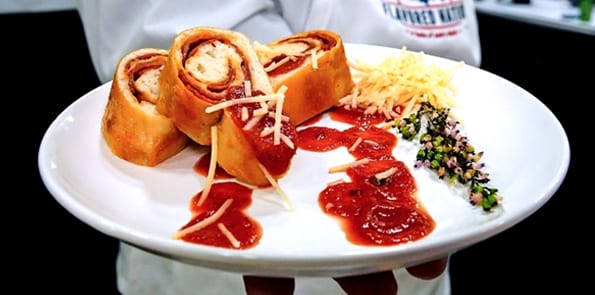 Wisconsin
Cheese Curds
Cheese curds are moist pieces of curdled milk either eaten alone as a snack or used in prepared dishes. These are chiefly found in the northeast and midwest United States. Cheese curds are made from fresh pasteurized milk during the cheesemaking process, when bacterial culture and rennet are added to clot the milk. After the milk clots, it is then cut into cubes; the result is a mixture of whey and curd. This mixture is then cooked and pressed to release the whey from the curd, creating the final product of cheese curd. Curds are sometimes referred to as "squeaky cheese."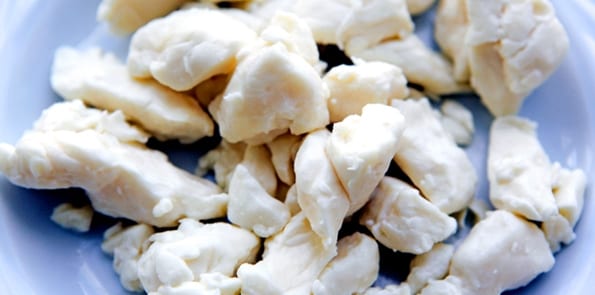 Wyoming
Buffalo Chili
Buffalo meat is lower in fat and cholesterol, and its slightly sweeter taste and tender meat makes it perfect for chili. This chili is perfect for those who are looking for a dish great in flavor but watching their waistline.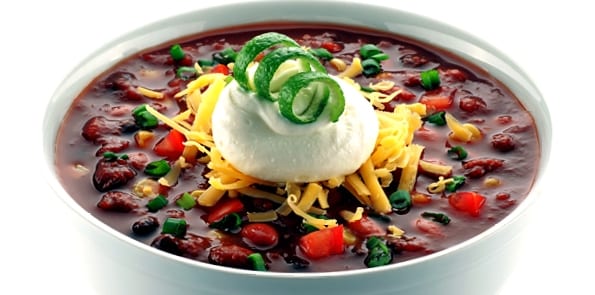 *Dishes subject to change.